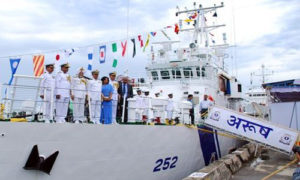 The Indian Coast Guard ship 'Arush', the 17th in the series of 20 fast patrol vessels designed and built by Cochin Shipyard Ltd., was commissioned here on Thursday.
The ship was commissioned by the Coast Guard Commander (western seaboard) Additional Director General SPS Basra in the presence of the Commander Coast Guard Region (West) Inspector General K. Natarajan and other senior dignitaries of the central and state governments.
According to the Navy, the 50-metre indigenous FPV has a displacement of 421 tonnes and can achieve a maximum speed of 33 knots with an endurance of 1,500 nautical miles at an economical speed of 13 knots. "It is equipped with state-of-the-art weaponry and advanced communication and navigational equipment which make it an ideal platform for undertaking multifarious close-coast missions such as surveillance, search and rescue and medical evacuation," a Navy release said.
The special features include an integrated bridge management system and integrated machinery control system, it said.
The ship has been named ICGS 'Arush', meaning "first ray of sun", and will be based at Porbandar under the administrative and operational control of the Commander, Coast Guard Region (NW). "The ship is commanded by Commandant Pramod Pokhriyal and has a complement of four officers and 33 enrolled personnel," it said.PTI."
Source
http://www.thehindu.com/todays-paper/tp-in-school/coast-guard-ship-arush-commissioned/article8656826.ece