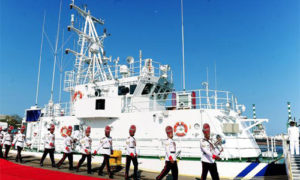 ICGS Arnvesh, a fast patrol vessel (FPV) of Indian Coast Guard, was commissioned here today.
The ship is primarily intended to undertake surveillance at sea, coastal patrol, anti-smuggling and anti-piracy operations.
Arnvesh is equipped with the most-advanced navigational and communication sensors and equipment, including night vision capabilities, and is fitted with 40/60 Bofors gun onboard as main armament.
"Indian Coast Guard has emerged as a potent force and its growth is exponential. The induction of Arnvesh today is yet another defining moment in the annals of Indian ship building industry and is testimonial to our indigenous shipbuilding capability, which further bolsters the nation's 'Make in India' campaign," Eastern Naval Command Vice-Admiral HCS Bisht said on the occasion.
The ship is built by the Cochin Shipyard Ltd.
Bisht said the changed security scenario in the maritime domain dictates the need for coastal security on round-the clock basis wherein both the coast guard and the Navy have to maintain a constant vigil.
"By keeping our seas safe and our coasts secure, we play a major role in the nation's growth and prosperity. The role of Coast Guard, along with various other stake-holders involved in coastal security, therefore assumes greater significance," Bisht said.
The ship will be manned by five officers and 35 enrolled personnel.
Senior officials were present on the occasion."
Source
http://www.thehindu.com/todays-paper/tp-national/coast-guard-patrol-vessel-arnvesh-commissioned/article8382652.ece