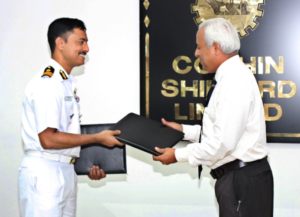 Cochin Shipyard Limited (CSL) has delivered the 13th of the series of 20 Fast Patrol Vessel ICGS Anmol under construction for the Indian Coast Guard on June 1.
The Protocol of Delivery and Acceptance was signed between Capt R.S. Sundar, Director (Operations), CSL and Commanding Officer (Designate) of the vessel Cmdt. Satish Bisht. DIG T P Sadanandan, Principal Director (Material), DIG G Devanand, CGRPS (KOC), DIG S Ghosh, CSO (Tech-NE) and other senior officials of ICG and CSL were present on the occasion. The vessel will be operated from the Coast Guard Station at Haldia, West Bengal.
According to a media statement, CSL has consistently performed beyond expectations in that it has delivered seven ships in FY 2014-15 and three ships in FY 2015-16. Besides, the yard delivered seven ships consisting of six Fast Patrol Vessels for Indian Coast Guard and 1 Platform Supply Vessel for Norwegian owner in 2014-15.
BY 513 the third ship being delivered in 2015-16. The other two being Fast Patrol Vessels for ICGS & 1 Buoy Tender Vessel to Directorate General of Light Houses and Light Ships.
As on date, 12 ships out of 20 have been handed over to the Indian Coast Guard, the 15th Ship has been launched and keel of 16th Ships has been laid. Cochin Shipyard has successfully delivered 12 ships in a span of just 20 months with an average delivery interval of 1.6 months, against the contractual commitment of three months interval. The last vessel of the order is to be delivered by March 2017 as per the contract with ICG. However, with the current pace of construction, Cochin Shipyard is targeting to accomplish this by mid of 2016, much ahead of schedule.
The contract for the Design & Construction of 20 Nos. Fast Patrol Vessels was awarded to Cochin Shipyard on the 20th of October 2010. Though Cochin Shipyard had been repairing Indian Coast Guard ships in the past, this was the first new building order for CSL from the Indian Coast Guard. This was also the largest order won by CSL on a competitive tender. These Fast Patrol Vessels are primarily intended for patrolling within the Exclusive Economic Zone Coastal Patrol, carrying out anti smuggling, anti piracy and search & rescue operations, and for fisheries protection & monitoring.
Source
http://www.business-standard.com/article/pti-stories/csl-delivers-icgs-anmol-to-coast-guard-115060101373_1.html